Encouraging A Growth Mindset For Kids
Program Feedback And Research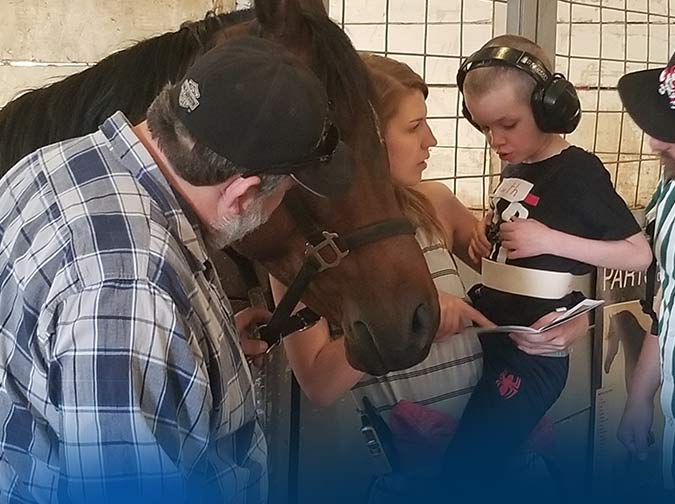 Horse's Love Reading Too...

By Mrs. Beliveau

The children have learned many lessons and new skills this year, but perhaps the learning they take the most pride in is reading. They began the year able to identify sounds and read just a few short words. Now they are able to read stories, magazines, websites, comics, and so much more! What a tremendous accomplishment!

After practicing our reading daily since September, the children were ready and we were off! We spent a morning celebrating and sharing our reading talents with none other than a few gentle Arabian horses.

The students moved through different centers, reading to the horses after completing the activities at each centre. The activities were fun and included labeling the parts of a horse with sticky labels, grooming the horses (and their hooves!), running silly relay races dressed as cowboys and cowgirls, writing special messages on posters to the horses, trying out the feel of a saddle (complete with parent-generated bumps) and making paint-stamped bandanas.

Reading was easily the highlight! There were so many magical moments as the horses leaned in to see the pictures and hear the students read. The children read with confidence and tremendous pride, and the morning is one we will fondly remember.

Keep reading, boys and girls! Thank you, Mr. Millar for motivating us to read all year long!

Mrs. Beliveau is a primary teacher who wants to shout from the rooftops and share the amazing learning taking place in her classroom! Check out her blog Once Upon a School Day ... share in the story of our learning or VIDEO.
Research


Program Feedback
"We have many funny stories to remember about the horse nuzzling, sneezing and reading ... and I hear them over and over"
- Heather Ferguson, grade four teacher, Pinestreet Elementary School, Sherwood Park.
"We got to use all the grooming tools on Misty. We used the "small places" brush, the grooming brush, the finishing brush, the rubber curry comb, and a comb to get the knots out of her mane. Misty looked great after we finished using all the different grooming tools!"
- Colchester School.
"I've never been this close to a horse before. Mysty was getting right into the book. It seemed like she really enjoyed it."
- Amber Crickmore, student, Robin Hood Association for the Handicapped, Sherwood Park.
"Our first activity we did was riding a horse, or the next best thing. A few bales of hay with a saddle! There was a stick under the saddle and someone would move it. To make the horse walk you would have to make sort of a clicking noise. We did the same thing for a trot except with more energy. For cantering you need to make a kissing noise."
- Colchester School.